SMDC Shore 3 Residences - LOCATION
Shore 3 Residences is situated in Seaside Blvd. and Sunrise Drive, Mall of Aisa Complex, Pasay City. This is an easy spot within the area, with several landmarks and within the reach accessibility to all basic needs.
Lessen the hassle already during peak and holiday season and complete your shopping needs as you're just neighbors with SM Mall of Asia. Several entertainment hubs to enjoy such as the Mall of Asia Arena, World Trade Center which conducts several events and bazaars every year, City of Dreams, Solaire Resorts and Casino and the Cultural Center of the Philippines.
Several businesses are also spotted in the area, therefore, Shore 3 Residences is another best home to choose from. E-com offices, which is the home of some of the BPO companies that started in the area, Makati CBD and BGC are just a few kilometers away, Japan Embassy and US Embassy are just nearby in the area.
Health institutions like St. Lukes Urgent Care, San Juan De Dios Hospital and Ospital ng Maynila are also a few minutes' drive from the area. Schools within Pasay and Manila are just nearby such as Manila Tytana Colleges, College of Saint Benilde, St. Scholastica's College and De La Salle University.
Transportation is not a problem because it is guaranteed 24/7 within the vicinity. There are also easy ways going to north or southern area, through MRT EDSA-Taft Station, LRT Baclaran, Taft or Gil Puyat Stations, and other thoroughfares such as NAIA Expressway, Cavitex and South Luzon Expressway.
 
Shore 3 Residences Environs
Given the strategic locale of the development you can be sure to enjoy a wide range of world class facilities. For instance, you could enjoy shopping at SM Mall of Asia since you are basically neighbors. After a long week of work, you definitely want to release your stress. This is covered as well. Entertainment plays a great role in helping us ease stress and this is why there are entertainment hubs right within your reach. One of the hubs available is the Mall of Asia Arena which is just 700 meters from the property. Here you and your family can have a great time and at the end of the day go home relaxed and rejuvenated ready for another week. If you are a resident at shore 3 residences, you also get to enjoy and experience the feel of the events at world Trade Center which is approximately 1.3 kilometers away. This particular facility conducts various events as well as bazaars each year. So if you are the kind that enjoys bazaars then this is one place you cannot miss.
Do you like visiting the casino? Well, you will be happy to learn that Solaire Resorts and Casino is just 1.8 kilometers away from the development. So you do not have to drive for long distances to search for a casino because it is right at your doorstep. You might as well want to learn more about the culture of the Philippines; you can visit the Cultural Center of the Philippines which is about 1.9 km from the shore 3 residences. Here you will learn all you want and more about the Philippines culture. You will find that people travel from across the world to come here to learn about the culture. You can as well learn something about the visitors' culture and this is a plus for you. You get to meet people from all over without having to travel. The only way you can be this lucky is by getting a home at shore 3 residences.
 
Major Places Close To Shore 3 Residences
Also, when looking for a place to settle, you need to consider the education facilities around for the sake of your children. At this development you will have access to the best education institutions available. Some of the institutions are Manila Tytana Colleges which is just 170 meters away. You could also choose to enroll your children in College of Saint Benilde approximately 2.6 kilometers away. You also have another choice; St. Scholastica's College about 2.8 km away. Your children could also attend the De La Salle University just 2.6 km away from your place of residence. As it is, you will be spoilt of choice when it comes to picking the best education institution for your children. Before deciding to settle in a place you will need to know about the health facilities available. There are several health institutions where your health needs could be addressed. One of the institutions is St. Luke's Urgent Care just 420 kilometers away. San Juan de Dios Hospital is also within the vicinity given that it is 700 meters away. You could also prefer to have your health needs addressed at Ospital ng Maynila which is approximately 2.8 km away. With all these facilities next to this development you can be sure that buying a home here is a wise idea.
Within the vicinity of this development, there are several businesses meaning the place is already developing at a high rate. Why don't you be part of the development? You need to consider making your investment here since all your requirements are taken care of. Some of the businesses include E-com offices, which happen to host most of the BPO companies started in the area. Makati central Business District and BGC are also within the vicinity given that they are just a few kilometers away. If you happen to be a resident at shore 3 residences you will also have access to Japan Embassy services since it is just 670 meters away from the property. Also, the US Embassy is 880 meters away. So you can see that you have so much to enjoy when residing here or even have an investment.
One very important factor that should also be observed when searching for a place to settle is accessibility. You need a locale that offers access to your places of interest. When you invest or own a home at shore 3 residences, you will enjoy adequate transport. Firstly, your transport is available round the clock and you will never have to worry about lack of transport at any given time. There are access roads going to north and southern areas through major stations such as MRT EDSA – Taft Station, LRT Baclaran, Taft or Gil Puyat Stations. There are also thoroughfares such as NAIA Expressway, Cavitex as well as South Luzon Expressway. Now that you have seen transportation is covered you need to book a space for your investment.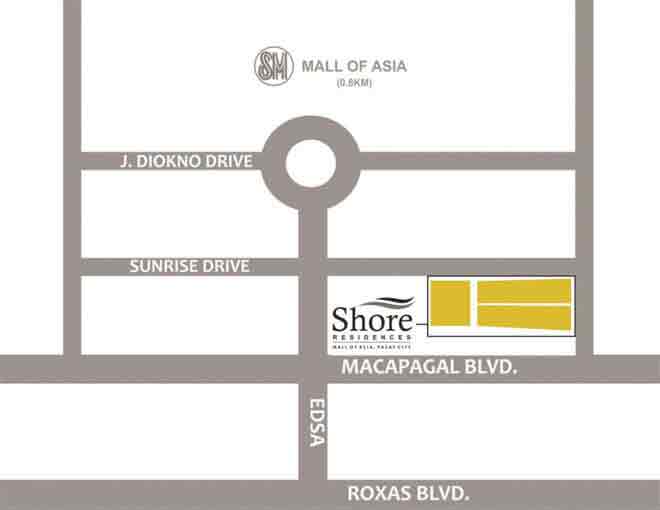 Are you the Adventurer or the Business Professional?
If you know anything about the surrounding Pasay City, this area is one that you will love to live. The Shore 3 Residences are located on the corner of Seaside Boulevard and Sunrise Drive, which is only a short distance away from some delightful businesses and entertainment. Close to Manilla Bay, you will also be near the ferry terminal that can take you where you want to go. If you love to travel outside of the city, this is a great area you will enjoy living. There is transportation to anywhere you'd like to go nearby, so you will not be limited.
The SM Mall of Asia is also a great place to live nearby. With so many stores, restaurants, and other entertainment, you will always have something to do. Whether you love to go to the cinemas and see a new movie, or enjoy live theater entertainment, there is something to do each night of the week. Also in Pasay City is the MOA Arena, and the SMX Convention Center, which offers different sporting events, concerts, and other distractions from your busy life. From fast-food restaurants to fancy dining, and even casinos, you will always be able to find something to do no matter how many people are in your party!
If you are someone who is looking for further your career or begin a new one, there are so many opportunities awaiting you. For the young entrepreneur or the seasoned business person, you will be able to find a job or career that you love. There are a variety of different offerings in the area for anyone at any stage in their career. Whether you are looking for schools to meet your children's needs or looking for a college to further your studies, there are so many educational opportunities in Pasay City. You will be so content living in the Shore 3 Residences.

When looking to invest or settle, you need to consider the location as well as the environs. Your place of settlement needs to be convenient for you in every aspect; you basic necessities such as education institutions, health facilities, shopping malls or stores, entertainment as well as transportation. All these things are covered such that you can have a comfortable and hustle-free life here. This particular development is strategically located in Seaside Blvd. and Sun Drive, Mall of Asia Complex, Pasay City. Its location happens to be easy to spot given that there are several landmarks around such as SM City Mall of Asia which is approximately 650 meters away, MOA arena about 700meters away, Cultural Center of the Philippines Complex also very close about 1.9 kilometers away to mention just a few. As it is, the development is in a perfect locale where you have all your necessities within reach.